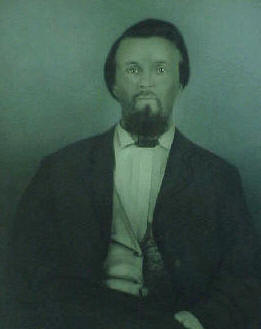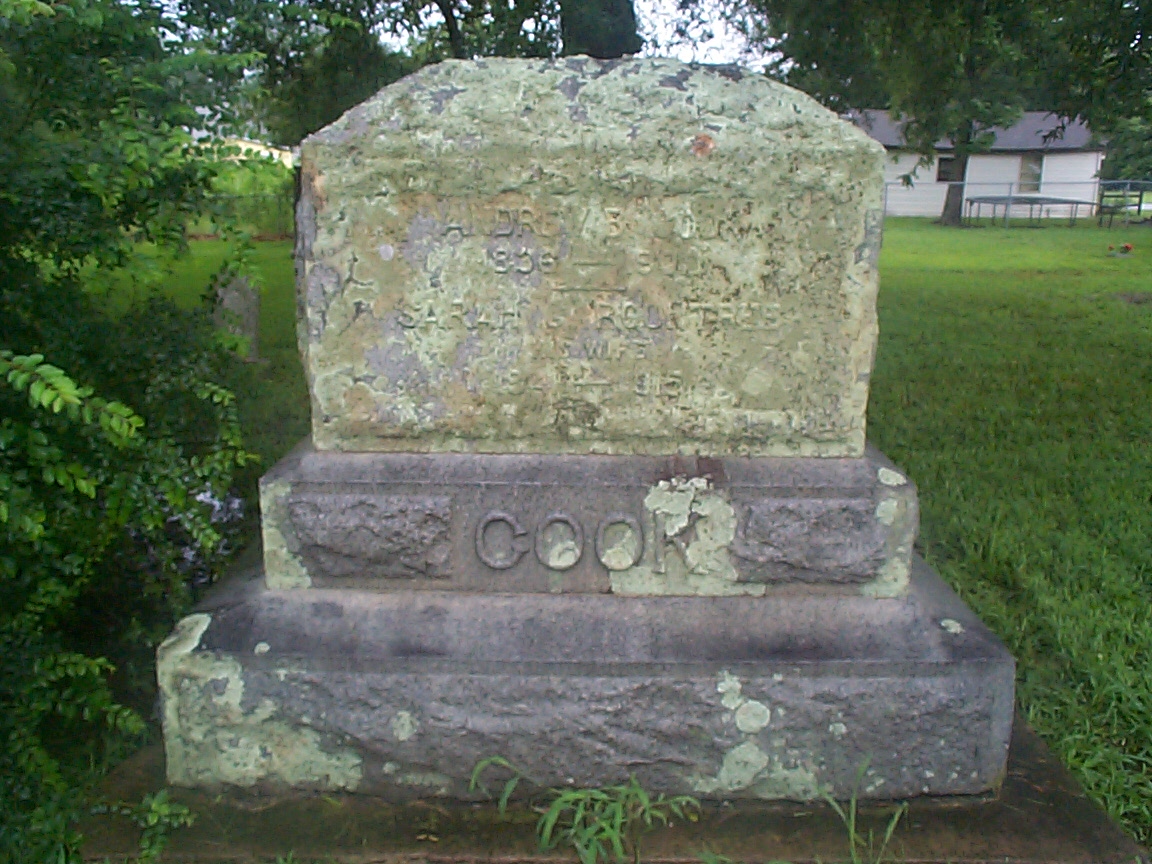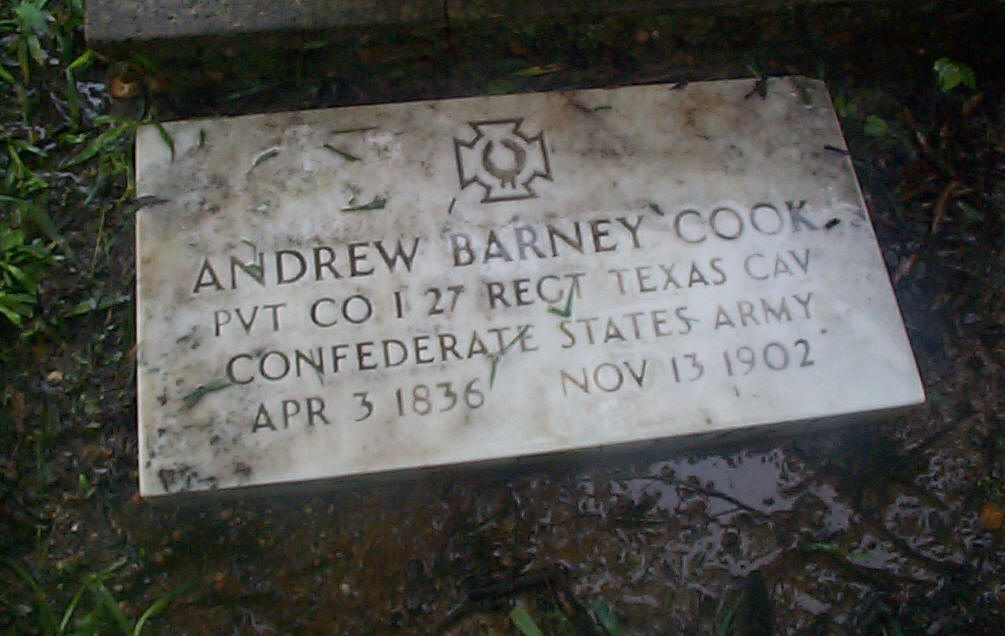 Full Name: Andrew Barney Cook
Birth Date: 1836
Died: 1902
Spouse: Sarah Gay Rountree
Biography:

A. B. Cook, came to Texas in 1856 (sic) and settled on 160 acres of land given to him about half way between Omaha and Springhill, in Morris County [formed from Titus in 1875], where Lou and Lizzie were born. They lived in a log cabin about 100 yards north of the road, and was pointed out to me on my only trip to Springhill Primitive Baptist Church. He would close his store at Cookville on one Saturday each month so he and his wife could attend services there…Sarah and two children lived there throughout the Civil War in which he served. At Oakland, Mississippi he received a spent rifle ball in his shoulder, but afterwards engaged in several battles, such as Franklin, Tennessee and Pilot Point, Georgia, Murfreesboro, Nashville, Vicksburg, etc., and was twice captured and held prisoner at Franklin, Tennessee and Pilot Point, Georgia 8 ˝ months. One or two of his brothers were flag bearers and as their mounts were shot down, he grabbed the flag and carried it to victory. That is probably what gave him the title of Major. After the war was over, he made one or two crops and then moved to Clay Hill. He had a shack for a store in the corner of the yard – about 8 by 12 feet. Later he had a larger building almost adjoining the home on the West side, and later built a larger building on a corner of the business district layed (sic) out facing the railroad which came about 1879. He had a well-assorted stock of goods – dry goods and groceries, boots and shoes, clothing, some drugs, especially Smith's Bile Beans, Groves' Chill Tonic, Calomel and quinine, name it and take it; and a large room added to back of store containing flour and salt by carload, bagging and ties, John Deere and Kelly stocks and plow points, sweeps, saddles, plow lines, single or double trees, etc. After thirty years in this business, he sold out about 1895 and retired. He had a quiet disposition, was charitable in giving ground for churches and schools, or anything else for the good of the community; kept his business and politics to himself. Two of his famous sayings were "Honesty is the best policy" and "Doing well is hard to beat". His first residence was about 100 feet South of the "big road", as it was called, now Highway 67 in almost exactly the same place, as it passes that particular spot. As the family grew, he built side rooms until about 1880 he built a 7-room house with 2 stack chimneys to the South and in line with his store, facing the railroad. That house burned down not long afterward – in August…


Obituary:
Mt. Pleasant Times-Review
A.B. Cook, of Cookville, Texas, was suddenly called hence Thursday night, Nov. 13th [1902], at 11:30. His fatal illness, neuralzia of the heart was of only two days duration, and while he and his physicians realized the danger he was in, his death was quite a surprise and a shock to all.

A.B. Cook, merchant, farmer, and founder of Cookville, was born in Macon, Ga., April 3, 1836, come to Texas in 1851, enlisted in the confederate army in 1862 and served until the surrender. He was in Mississippi, Georgia, Alabama, and Tennessee. At Oakland, Miss. He was severely wounded, but afterwards engaged in many severe battles such as Franklin, Holly Springs, Iuka, Lumpkins Mills, Murfersboro, Nashville, Vicksburg, and many others. In the death dealing contest at Iuka, two brothers older than himself of Whitesfields Legion color bearers, each falling successively, a third, the subject of this sketch, grasped the bloodstained banner from the prostrate forms of his wounded brothers and bore it aloft to a glorious victory.[3] At our state capitol says The Southern Home Magazine. That group of heroes should be memorialized in bronze or granite, a parallel of which defies the world.

He was twice captured, first at Franklin where he was severely wounded and kept in prison 18 days, and again at Pilot Point and held a prisoner eight months at Indianapolis.

In 1867 Mr. Cook embarked in the mercantile business in the little town of his own founding, Cookville, Texas, and continued in that occupation until his retirement in 1896. He was a consistent member of the Primitive Baptist church, having joined that church at the age of eighteen. Almost as regular as the Saturday before the first Sunday of each month came, he would be found on his way to Spring Hill church where his membership has been for forty-eight years.

Major Cook had his peculiarities, yet those who knew him best loved him, and to know him intimately was to admire, respect, and love him.