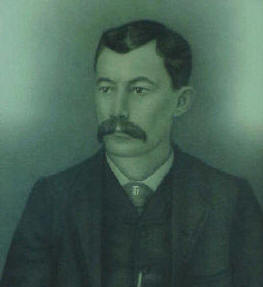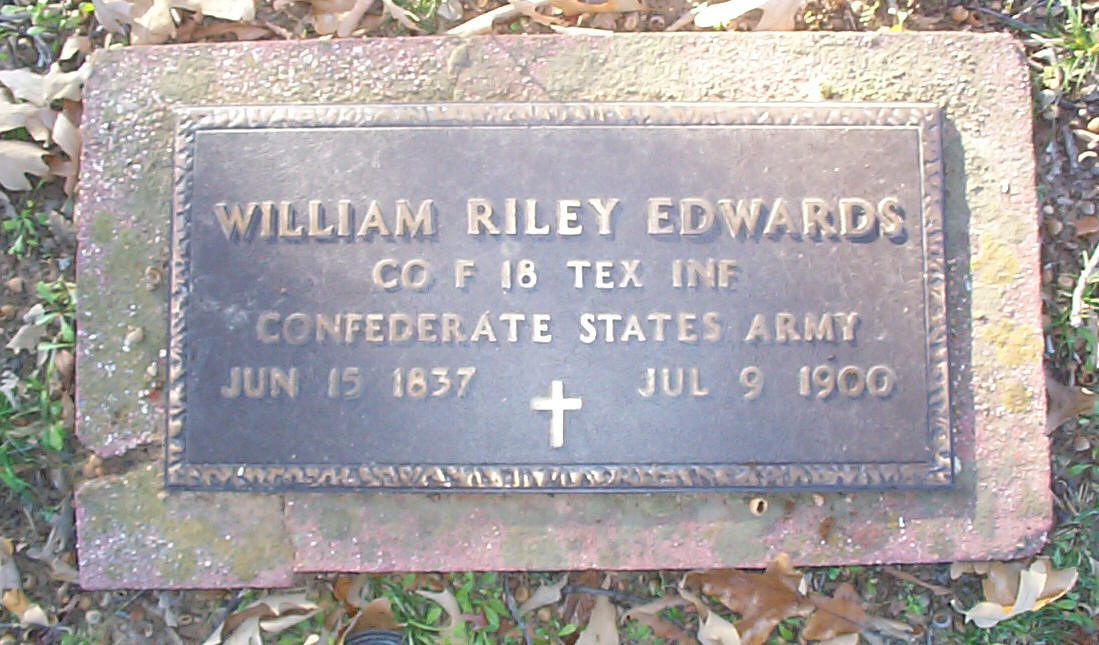 Full Name: William R. (Bill) Edwards
Birth Date: June 15, 1837
Died: July 9, 1900
Spouse:
Biography:
William Riley Edwards was born in Cleveland, Bradley Co., Tennessee, 06/15/1837. He moved to Mount Pleasant, Titus Co., TX in 1858. He enlisted in Co. F, 18th Texas Infantry as a Private at Mount Pleasant, Titus Co., TX on April 25, 1862. He was enlisted by W.B. Ochiltree. From there he went to Camp Sidney Johnson, Marion Co., Texas. William is shown as 1st Sergeant, Co. F, on the Muster Roll for Sept. and Oct., 1862. He was soon elected to Third Lieutenant, and later promoted to 1st Lieutenant of Co. F. William is shown on the Company Roster as promoted to 2nd Lieutenant, Co. F, June 1, 1863. The Roster, dated February 1865 shows him as 1st Lieutenant, Co. F. The Muster Roll for January and February 1864 shows he was promoted by order of Gen Hawes, on Feb. 22, 1864. Date of rank April 9, 1864.William R. Edwards participated in the battles of Mansfield, Pleasant Hill, Burbois (Bayou Bourbea), and other fiercely contested engagements. At Burbois (Bayou Bourbea), Louisiana, 11/3/1863, he was badly wounded by a rifle ball piercing his right arm. On recovery he rejoined his command and served until the close of the Civil War.
After returning to Mount Pleasant he became a Colonel in the Texas Militia. He was called "Colonel Bill." "Col. Bill" Edwards is best remembered as Sheriff of Titus County from 1871 to 1882. He organized a vigilante system in Titus County in order to combat crime, which was widespread, after the Civil War.
Colonel W. R. (Bill) Edwards is said to have been a direct descendant of Jonathan Edwards, who was an important person in the original Thirteen Colonies of the United States. He came to Titus County soon after the Civil War and probably not later than 1868. He was born in Cleveland, Tennessee, in 1837. He went into the Confederate Army and was discharged with the rank of Colonel. When he came to Titus County, he purchased land west and north of the present high school, and some say that he donated the land for the Edwards Cemetery. He may have given a portion of the land used in this cemetery, but a part of it was established prior to the Civil War. Soon after settling in Titus County, he became a Deputy under Sheriff Jim Brown. Titus County was still in the Reconstruction Period, and it was a rather rough day and age. In fact, so much so, that Sheriff Brown resigned in 1871 and Colonel Edwards was appointed in his place.
Perhaps the most troublesome crime that Sheriff Edwards had to combat was horse stealing, but there were always a good many murders. The Abb Stephens gang was still around and on more than one occasion, Abb Stephens sent the Sheriff word that he was going to get him and, of course, the Sheriff desired to beat Stephens to the draw. It was Sheriff Edwards and one of his vigilante groups that put the Stephens gang out of business by killing one of them and capturing another. The one captured was taken out and hanged the next day. Sheriff Edwards probably had a deputy or two, but these were not sufficient, so he organized vigilantes in the various parts of the county and would appoint someone as Captain in each area. Dr. J. F. Wilkinson, of the Chapel Hill area, was the Captain there; and if Sheriff Edwards had a serious matter in that area, Dr. Wilkinson would be notified and he would summon the posse to meet the Sheriff at his home and go with him and assist. This proved to be a very good system, and during his tenure in office law and order were greatly restored to Titus County. On May 3, 1872, he hanged James C. (Sam) Rowland for the murder of an unknown foot peddler. This is the only person ever executed in Titus County under legal process. Green Dickson defeated him for Sheriff in 1882. He had accumulated quite a bit of land, all of which is now in the western and northwestern part of Mt. Pleasant. He had a cotton gin and a gristmill where the high school football field is located; and at the time of his death, he was operating a country store at Argo. He died in 1900, and is buried in the Edwards Cemetery, along with many members of his family.