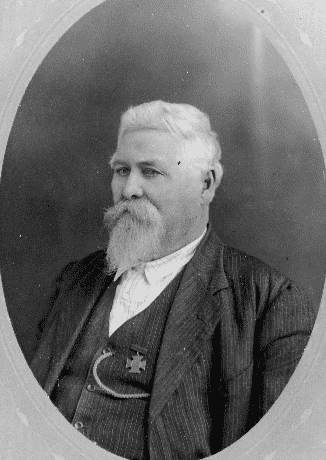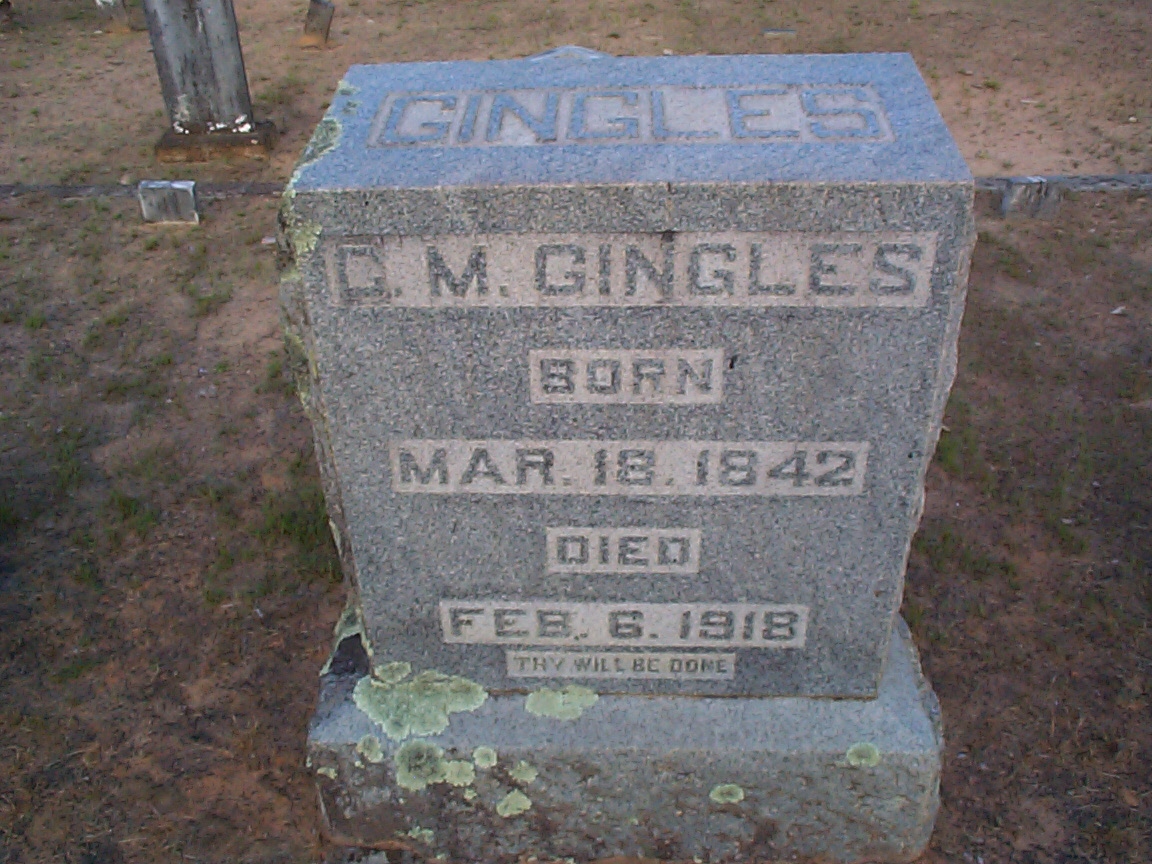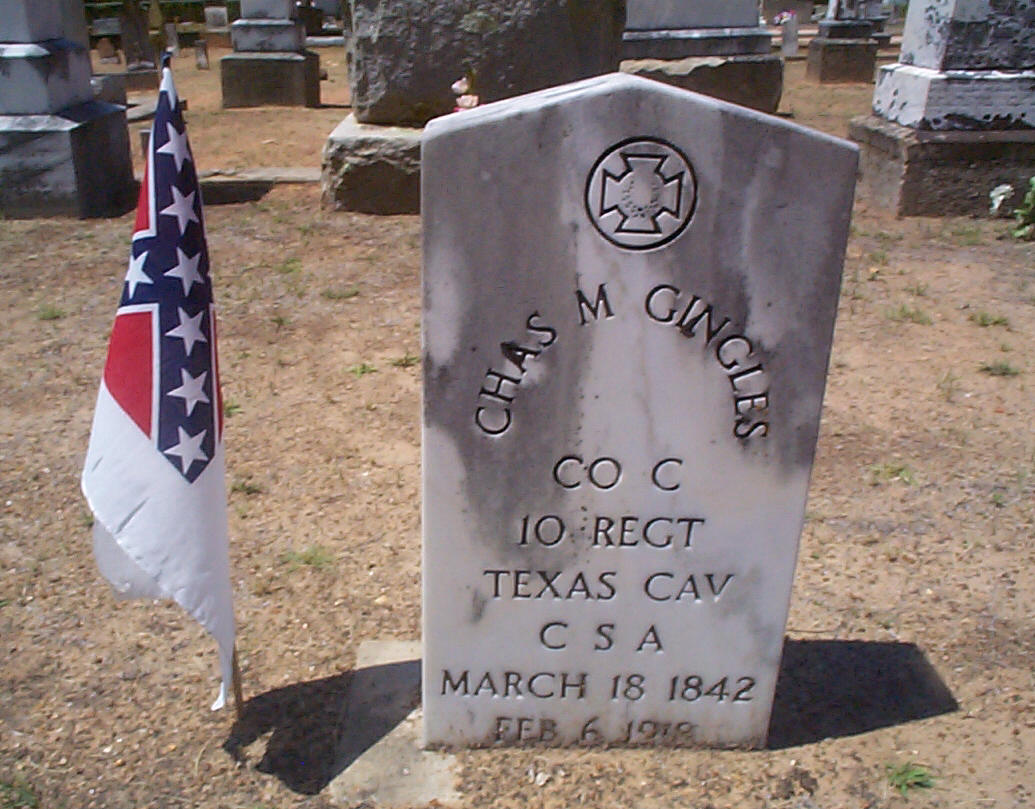 Full Name: Charles McCamey Gingles
Birth Date: March 18, 1842
Died: February 6, 1918
Spouse: Mary Ella Cobb
Biography:
Charles McCamey Gingles was born March 18, 1842 in Cabarrus County, North Carolina the son of John Gingles Jr. and Martha Clementine Purviance. He was first married to Elizabeth M. Bolin on February 17, 1873 and three children were born from this marriage: Harry Lee Gingles, Clara Clementine Gingles and Raymond Francis Gingles. After the death of his first wife, Charles Gingles remarried on January 9, 1879 to Mary Ella Cobb who was the daughter of Alexander Cobb and Eliza Baxter Harris. To this union were born eight more children: an unnamed infant son, Charles Robert Gingles, Alexander Cobb Gingles, Sallie Florene Gingles, Ephrium Ross Gingles, Henry Grady Gingles, Annie Pearl Gingles and Walter Erwin Gingles.
After the Civil War Charles Gingles made his living by farming and hauling freight to and from Jefferson, Texas. He became a prominent leader in Titus County and died February 6, 1918.
Obituary:
Mr. C.M. Gingles died in his home in Marshall Springs neighborhood, on Wednesday, Feb. 6 after an illness of forty-two days.
Mr. Gingles was born in North Carolina, in 1842. He came to Texas when 19 years old and at the beginning of the Civil War he enlisted and served for four years. After the war he returned to Titus county and settled on the place where he died. Deceased was a kind and good man and liked by every one. Mr. Gingles is survived by nine children, six boys and three girls.
The funeral took place Thursday afternoon at Green Hill cemetery with services conducted by Rev. W.E. Hathorn.
Military: Reminiscences of the Boys in Gray 1910
C.M. Gingles, Mount Pleasant, Texas-Born in 1842 in Concord, North Carolina, and enlisted in the Confederate Army Nov. 1, 1861, at Coffeeville, Tex, as Orderly Sergeant of Company C, Tenth Texas Cavalry, Ector's Brigade, French's Division, Polk's Corps, Army of Tennessee. My first Captain was J.M. Tucker and first Colonel was Nat Lock.
I was first wounded at New Hope Church, struck by a ball between the eyes, which rendered me unconscious for a time, but did not seriously injure me. My second wound was at Murfreesboro in the Cedar Brake charge, a flesh wound to the arm. The third was at Nashville, in the left hand, and a scalp wound, at Spanish Fort, Ala.
Was in the battles of Murfreesboro, Tenn.; Chickamauga; Jackson, Miss.; Spanish Fort, Ala.; siege of Atlanta; Nashville, Tenn.; Kennesaw Mountain, New Hope Church, and many skirmishes.
When we left Texas we went into Arkansas and struck camp at Jackson's Port, and all took measles. From there we went down White River to its mouth and up the Mississippi to Memphis, where I was put in the hospital with measles and stayed a month.
After the surrender of Fort Pillow I went to the army at Corinth, Miss., where I relapsed with measles and was sent to the hospital at West Point, GA. From there I joined Bragg in Kentucky and had baked pumpkin and parched corn for a regular diet for some days. From there we went to Tennessee and got ready to go to Vicksburg.
We camped at Big Black River, and had orders to cook five days rations to last us into Vicksburg. Just about the time the cooking was done a courier came and told us that Vicksburg had surrendered. We then turned our steps toward Jackson, Miss., and from there a long march was made to Chattanooga, and from there to Atlanta, Ga.; from there to Florence, Ala., where we took up the pontoon bridge and took it to Franklin, Tenn., arriving the day after the battle. From there we went to Nashville and Mobile and Spanish Fort, and after its surrender we returned to Mobile, and from there to Citronell, where we surrendered.
DALLAS MORNING NEWS-February 14, 1909
Mount Pleasant Confederates
Special to The News.
Mont Pleasant, Tex., Feb 14 – Dudley W. Jones Camp, United Confederate Veterans, met at the courthouse here yesterday evening and elected the following officers fir the ensuing year: W.J. Johnson, commander; E.R. Nelson , first lieutenant commander; J.O. Justiss, third lieutenant; C.M. Gingles, fourth lieutenant; J.D. Mitchell, adjutant; G.B. Dickson, quartermaster; J.H. Hood, commissary: D.W. Ellis, surgeon; C.A. Johnson, assistant surgeon; Rev. N.A. Seale, chaplin; G.B. Tingle, treasurer; J.A. Bivens, sergeant major; F.W. Fitzpatrick, officer of the day; J.A. McElreath, ensign.
W.J. Johnson, J.V. Moore, F.W. Fitzpatrick, C.A. Johnson and G.B. Dickson were appointed as a committee on arrangements to prepare for the entertainment of the State Confederate reunion, which meets here in July. The amp adjourned to meet Saturday, Feb. 27, when other committees will be appointed and further arrangements perfected for the State meeting.
Regimental History
10th Cavalry Regiment was organized with about 900 men during the late summer of 1861. Many of its members were recruited in the towns of Quitman and Tyler, and the counties of Upshur, Rusk, and Cherokee. For the first few months it served in Texas, Arkansas, and Louisiana, then was dismounted after crossing the Mississippi River. After fighting at Richmond, the unit was assigned to General Ector's Brigade in the Army of Tennessee. It participated in numerous battles from Murfreesboro to Atlanta, endured Hood's winter operations in Tennessee, and aided in the defense of Mobile. Ths regiment totaled 565 effectives during the spring of 1862 and lost thirty-four percent of the 350 engaged at Murfreesboro. Very few surrendered on May 4, 1865. The field officers were Colonels James M. Barton and W.D. Craig, and Majors Wiley B. Ector and Hulum D. E. Redwine.