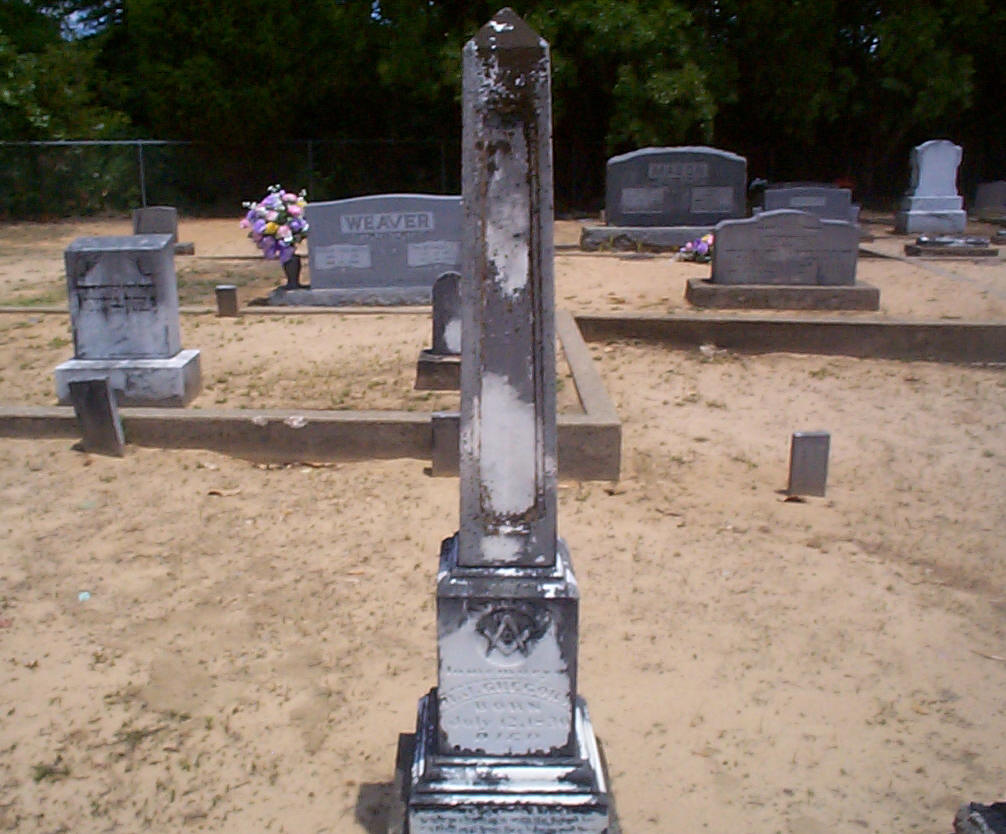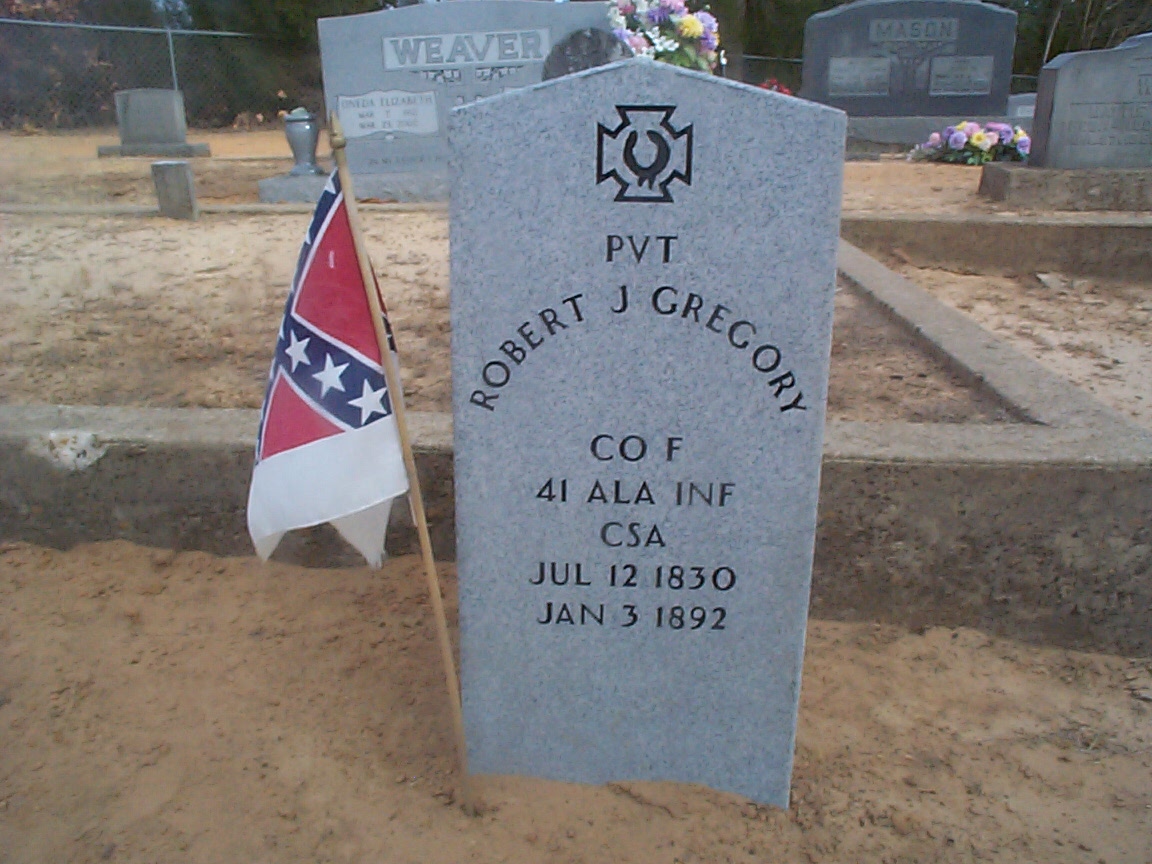 Full Name: R.J. Gregory
Birth Date: July 12, 1830
Died: January 3, 1892
Spouse:
Biography:
Robert Jordan (Bob) Gregory (12 July 1830 -2 January 1892), the sixth child of C. Gerard and Margaret, was born in Union County, S.C. The Southerners pronounced his name "Jerdan," but he was known mostly as "Bob." Leaving friends behind at the age of eight was not easy for Bob, as the family moved west. Bob was still farming with his father when he was 21. He married Martha Adeline (Mattie) Helms (4 July 1833-9 February 1906) in 1852 in Pleasant Grove, Pickens County, Alabama. The family moved to Mississippi long enough for their son, Esquire, to be born there. Two of their children, Josephine and Lummy, who died in infancy, are not identified in order of birth because this information is not known. Their remaining children: Mary Margaret; Harriet E.; Rebecca Minerva; and Esquire Hamilton.
In April 1862, Bob enlisted in Company F, 41st Regiment, Alabama Infantry, CSA. He acted as Courier for the Confederate Army and would return home, bringing letters and money to the soldiers' families. He was captured and held prisoner of war by the Union Army. He appears on a Roll of Prisoners of War at Point Lookout, Maryland. He was captured 25 March 1865 and arrived at Point Lookout, 28 March 1865. His place of residence was listed as Pickens County, Alabama. He was described as light completed, sandy-haired, blue-eyed, and 6'1/2 " tall. His mark appears on the register as having taken the Oath of Allegiance to the United States on 12 June 1865. He was released from Point Lookout on the date of his oath.
Bob moved his family to Mount Pleasant, Titus County, Texas, where he and Martha are buried in the Greenhill Cemetery, north of Mount Pleasant. Martha had gone to visit relatives in DeLeon and died at the home of her nephew, David Allen W. Gregory. She was returned home in a wagon by her son, Squire, to be buried beside her husband.

Regimental History:
41st Infantry Regiment completed its organization at Tuscaloosa, Alabama, in May, 1862. Members of this unit were raised in the counties of Pickens, Blount, Tuscaloosa, Perry, Greene, Washington, and Fayette. After serving in the Department of East Tennessee, the regiment was attached to Hanson's, Helm's, and J.H. Lewis' Brigade. It fought at Murfreesboro, was active in the operations around Vicksburg and Jackson, and participated in the Battle of Chickamauga. Transferred to General Gracie's Brigade, it saw action in the Knoxville Campaign, then during the spring of 1864 moved to Virginia. Here the unit was involved in the engagement at Drewry's Bluff, the Petersburg siege north of the James River, and the Appomattox Campaign. The 41st was organized with 1,250 men, reported 198 casualties at Murfreesboro, and lost forty-nine percent of the 325 at Chickamauga. Many were disabled at Sayler's Creek, and it surrendered with 14 officers and 84 men. Its commanders were Colonels Martin L. Stansel and Henry Talbird; Lieutenant Colonels Porter King, James T. Murfee, and Theodore G. Trimmier; and Maojrs Lemuel T. Hudgings, John M. Jeffries, and Jesse G. Nash.