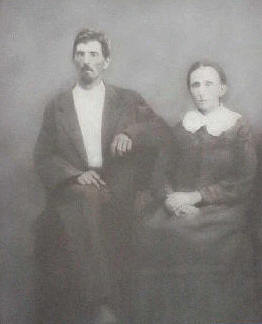 Full Name:
William P. Oliver
Birth Date: 1837
Died: 1911
Spouse: Roxanna Harrison Oliver
Biography:
William P. Oliver (1837-1911) was born in Mississippi. Roxanna Harrison Oliver (1844-1903) was born in Arkansas. The couple married in 1860. William Oliver served in Confederate Army. The Olivers settled at Gouldsboro (near present day Talco) in Titus County around 1878. The couple had six children. Descendants in Titus County are Mercers, Jackson, Lawson, Fry, Moore, and Deaton.
Traylor Russell
Author
Regimental History:
4th (McNair's) Infantry Regiment [also called Southwestern Arkansas Regiment], assembled at Miller's Springs, Lawrence County, Arkansas, recruited its companies in Calhoun, Hempstead, Lafayette, Montgomery, Pike, and Polk counties. After fighting at Elkhorn Tavern, the unit was sent to Kentucky where it was active at Richmond. It then was assigned to General McNair's and D. H. Reynold's Brigade, Army of Tennessee. Soon after the Battle of Murfreesboro, the 4th Arkansas Battalion merged into the regiment and in August, 1863, the 31st Arkansas transferred to the 4th. It was involved at Jackson, participated in the campaigns of the army from Chickamauga to Atlanta, saw action in Tennessee under Hood, and was engaged at Averasboro and Bentonville. This unit was organized with 695 men, and reported 55 casualties at Elkhorn Tavern, 23 at Richmond, and 79 at Murfreesboro. The 4th/31st/4th Battalion lost twenty-four percent of the 385 engaged at Chickamauga. Few surrendered on April 26, 1865. The field officers were Colonels Henry C. Bunn and Evander McNair, Lieutenant Colonels James H. May and Samuel Ogden, and Major Jos. B. McCulloch.